Education and Training
Do you need advanced courses to bring you or your team up to speed on the latest computer technologies and trends?
Then Axian's Training and Education programs are what you are looking for.
Axian software courses are designed to enable software developers and computer users to quickly evaluate and learn programming languages, operating systems, and APIs.
Axian's staff instructors not only develop courses, but they consult in their areas of technical expertise - so you know that you are being trained by a person who has actually used the skills they are teaching in the real world. As a result, we can respond to questions by drawing on their insight and knowledge gained from working on real software projects. Our instructors are capable of customizing classes for project teams or delivering Axian's standard courses specifically directed to students' needs. Our instructors are also Sun, Red Hat Linux, and Microsoft certified.
The Axian Training Center can accommodate up to 18 students in a classroom with individually assigned computers. Axian's highly skilled trainers will quickly get you up to speed when software, operating systems or hardware platform changes occur.
Entry to graduate level professional courses geared to software engineers and system administrators
Customized courseware



What sets Axian's training apart?
Courses taught by engineering and system administration experts who are consulting on the technology - so they can teach the material to you in terms that you can apply to your real life projects AND they can adapt "on the fly" to your specific needs that suddenly arise
Single point of registration and help scheduling classes - to make this as easy as possible on you and your administrative staff
Offer custom delivery of standard classes, or customized content - to fit your work schedule and give you the most "bang for your buck"
Course Developers evaluate your unique training needs - so you don't spend training dollars on the wrong material
The training you need for your engineers or IT staff is available locally or on-site - so you can get away from work distractions OR stay close to urgent responsibilities
Your "one stop shop" - so you can get in one place Sun, Microsoft, and Red Hat authorized courses, and Axian proprietary courses
After the class Axian can make the instructor or other senior developers available - so students can receive mentoring to apply the principles they've learned
Microsoft Solution Provider

In 1995 Axian was certified as a Microsoft Solution Provider company. As a Solution Provider, Axian has easy access to up-to-date technical information and on-line support directly from Microsoft. We are provided with the latest development tools and libraries, along with beta versions of the most recent software, to assure our customers that our methods are current and that our developers are anticipating upcoming releases from Microsoft.
Authorized Sun Education Center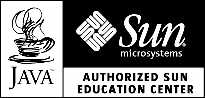 Axian offers several Sun Authorized instructor-led training courses in Solaris System & Network Administration, Java and Internet Development, as well as Sun Systems Programming, Device Drivers, and more. Axian's Sun Certified Instructors feature Sun training with the latest Sun hardware at Axian's Beaverton training facility, along with the added flexibility to travel anywhere to provide on-site training. Axian is the Authorized Sun Education Center for Oregon, Idaho, Alaska, and parts of Washington.
Red Hat Premier Alliance Partner

Axian is a Red Hat Premier Alliance Partner for Linux Education and Engineering in the North America.